5 Q-Interface For Payload Integration
W6 is a real ROV platform which can be customized for various industrial specific applications. W6 integrates 5 Q-interfaces for payload integration. It is easier for developers to develop their own dedicated accessory. Due to this design, it realizes the unity control of software and hardware, enrich the functions of underwater operations, and expand the application of underwater robot to the broader field.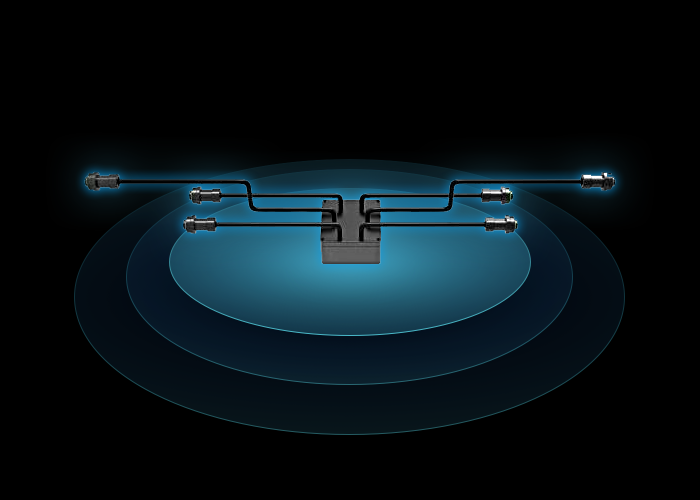 Station Lock
"Station Lock" algorithm can lock the ROV's position underwater, which can keep the position without drift in the complicated water environment.With it, the W6 can execute the extremely stable required inspection and operations.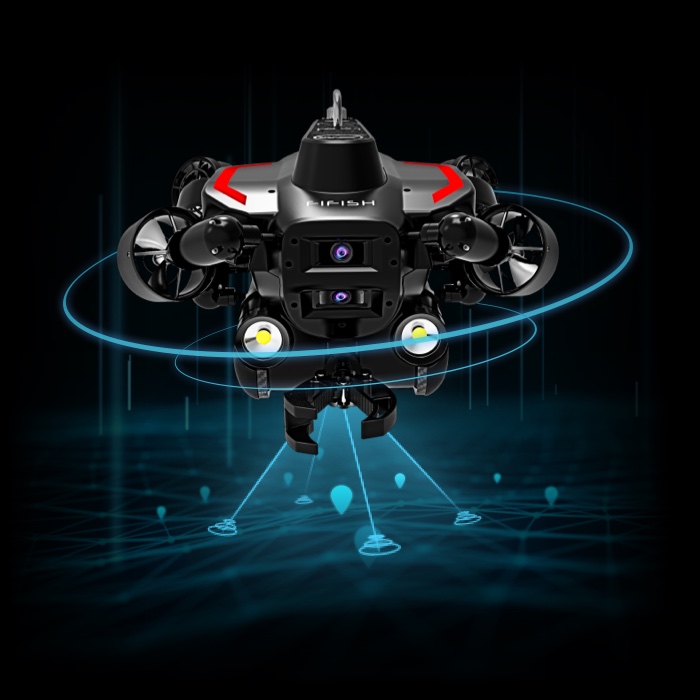 Imaging Sonar
FIFISH PRO W6 Underwater ROV platform can add-on 2D/3D image sonar to perform the inspection under dark and turbid water environment. W6 Modular design makes it possible to keep the fluid surface performance after add-on accessory. Keeping the highly stable operation efficiently.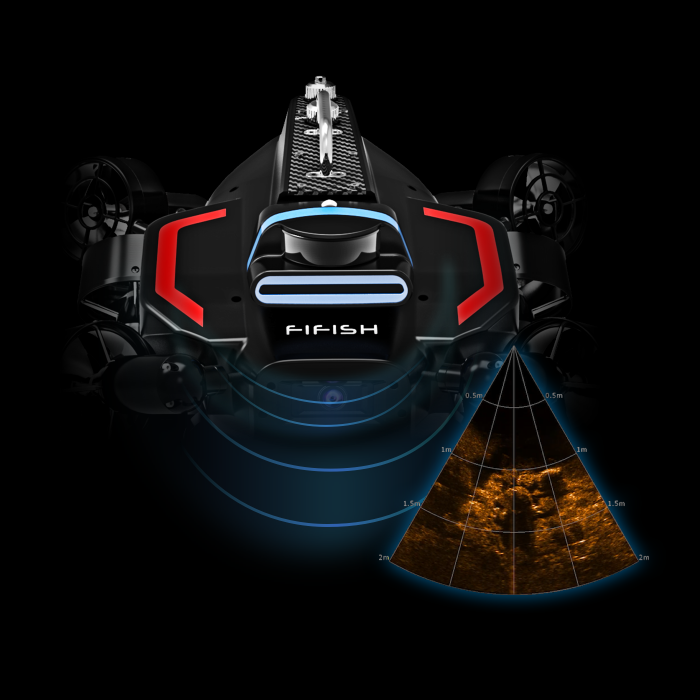 U-QPS Underwater
Quick Positioning System
U-QPS underwater quick positioning system is a Software and Hardware eco-system which can provide the real-time FIFISH ROV location, POI recording, three-dimensional diving path recording, and one-kick to return POI. Regardless of the interference of deep sea undercurrents, the path of the machine, the underwater 3D map will be displayed in real time, which is suitable for various long-term underwater detection and observation tasks. QYSEA designed software applications bring the ROV user experience to a new higher level.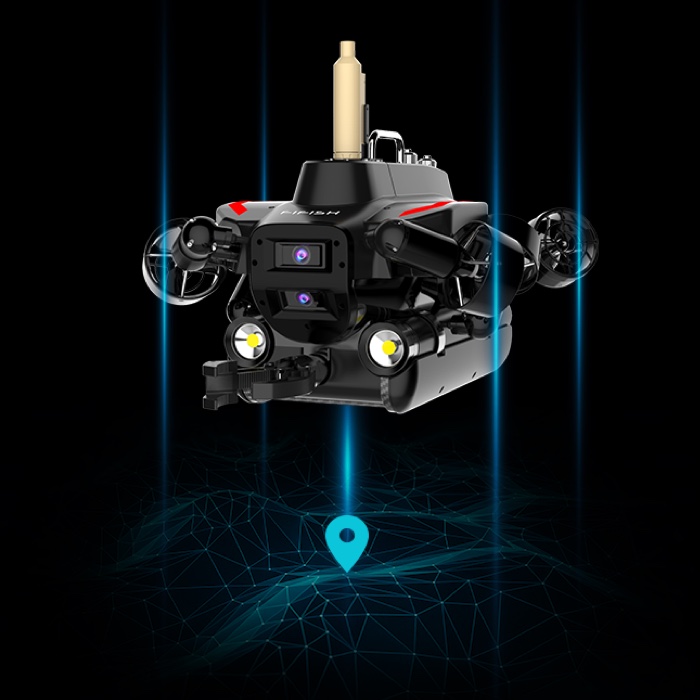 Sonar Array System
The Sonar Array system is QYSEA patent algorithm which can realize the Distance Lock, Altitude Lock, Collision Avoidance and Contour Scanning functions. These innovative functions enhanced the ROV user experience and reduce the complicated operation of ROV.Very useful underwater tools can be used to perform various task in complex underwater environment.
Onshore Power Supply Unlimited Endurance
W6 adopts QYSEA patent 6 thrusters system design, miniaturized onshore power supply system to unlimited endurance, unlimited scenes ; waterproof, anti leakage, anti electric shock, continuous supply, safe and efficient, worry-free operation.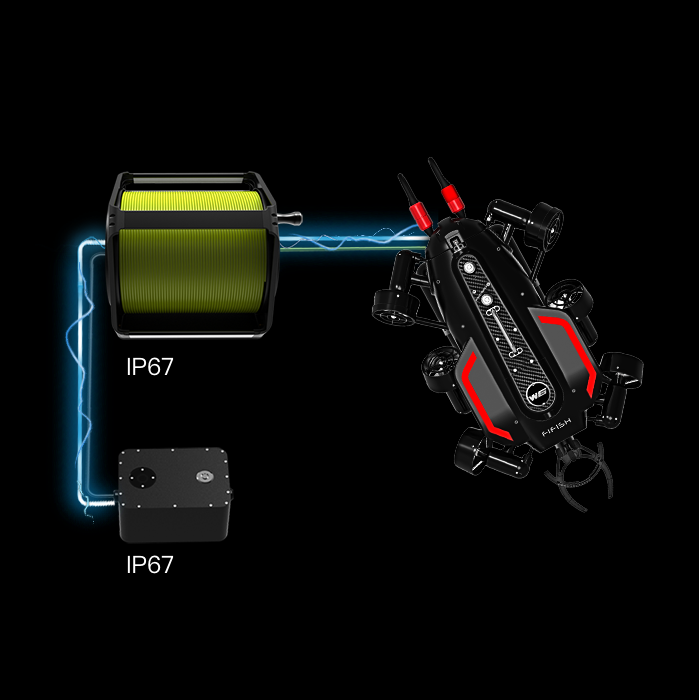 Removable Battery Quickly Exchange And Use
Standard 388Wh removable battery which can be replaced at any time can perform long-time underwater operations, and the battery supports quick charging mode, which can be charged 70% in one hour.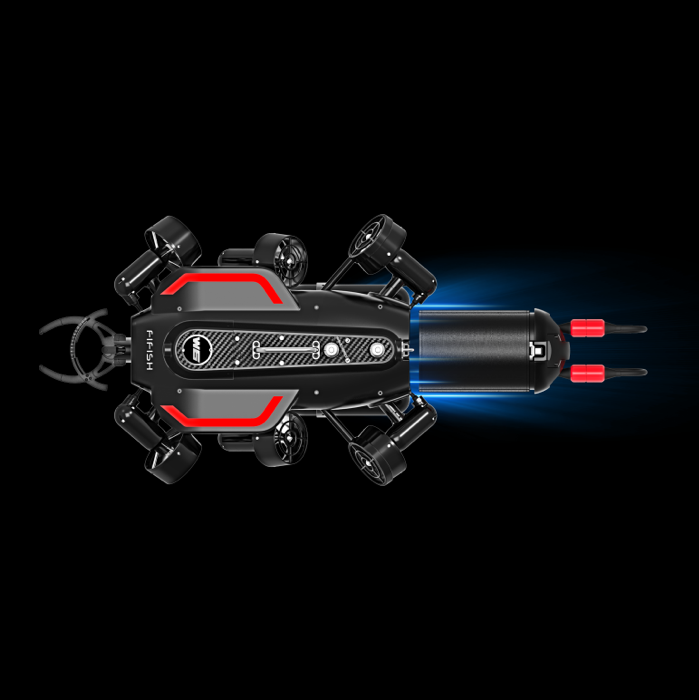 Innovative Dual 4K Camera System,
Dual Camera Work Coordination
W6 4K ultra-high-definition dual camera system provides a wider field of view, realizes the coordination of operation monitoring and motion observation, and provides operators with a complete picture of the surrounding environment. With this system, Comprehensive inspections can be performed; In addition, with FIFISH patented software, It can collect various information and analyze corresponding big data to output work reports.

Dual Camera System
Pixels: 12MP
Video resolution: 4K UHD
Signal Format: PAL and NTSC
Lens: Wide Field-of-View
Vertical FOV: 100°
Horizontal FOV: 166°
ISO: 6400 (max)
Underwater Light: 12,000 Lumens
High Precision Ruler Combination
(AR Scaler + Laser Ruler + Compass Ruler)
AR scaler and Laser ruler can realize accurate measurement of underwater objects. In ship inspection scene, it can accurately measure the scale of cracks and hull damage to effectively identify and prevent further damage; combined with compass ruler, it can be clamped for underwater small objects and real-time measurement, the measurement system package realizes a new way of measuring full-range coverage.
AR Scaler(optional)
Laser Ruler(standard)
Compass Ruler(optional)
1. ROV 350M depth rating, 4 Knots speed
2. Duo 4K Q-Cameras
3. 12,000 lumens LED
4. Full sealing, corrosion resistant Q-Motor
5. Multiple Q-Interfaces for Accessory
6. Remote Controller
7. VR Goggle with VR Head-Tracking function
8. Rugged Industrial Case*2
9. 350M Robotic ARM
10. 300M Tether [with spool]
11. 388Wh battery and chargers